High-end Art Deco Artisanal Bronze Rams Head Desk Sculpture Closeout Sale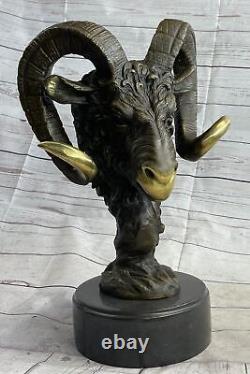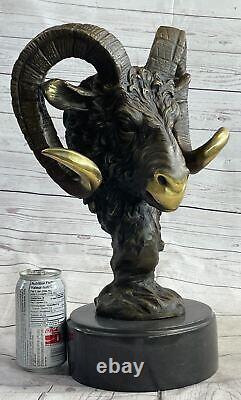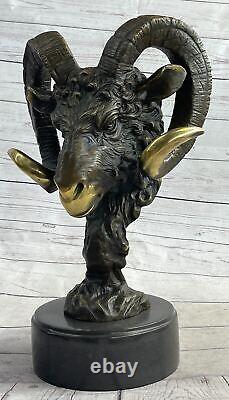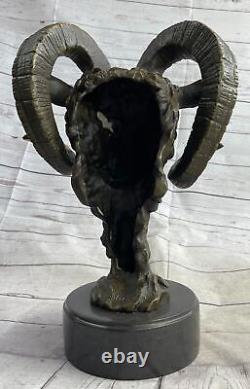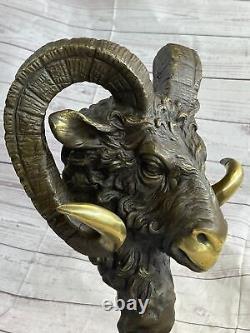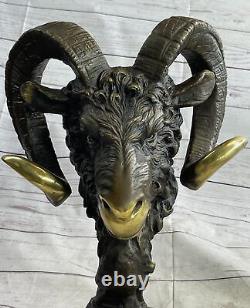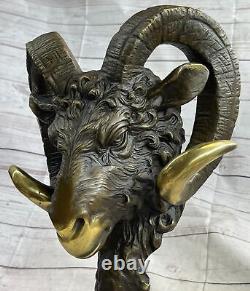 Artisanal Art Deco High Rams Head Bronze Sculpture Closeout Sale. This product description is originally written in English. Please find below an automatic translation in French. If you have any questions, please contact us. This sculpture is in perfect condition.
Bronze dimensions with marble base: Height 17" X Width 10". Presenting a remarkable bronze sculpture of a majestic ram, symbolizing strength, cultural importance, and fertility in ancient civilizations worldwide. In particular, the ram is highly respected in Egyptian culture, attributed to its warrior qualities and association with fertility. Our bronze sculpture depicts a proud ram, likely inspired by the American bighorn sheep, making it a standout centerpiece for any desk or table. Meticulously handmade, this sculpture is made from 100% bronze and features a captivating brown patina. The intricate details and realistic representation showcase the artist's expertise in capturing the essence of this revered creature. Using the "lost wax method," the sculpture undergoes a meticulous casting process, ensuring the preservation of each delicate element. The sculpture is elegantly mounted on a black marble base, providing a sophisticated and stable foundation. To authenticate its origin, the artwork bears the signature of the talented artist Canlien.
This bronze ram sculpture is more than a decorative piece; it embodies the cultural and spiritual significance associated with this majestic animal. It serves as a timeless reminder of power, fertility, and the rich tapestry of ancient civilizations. Whether displayed in a home, office, or as part of a collection, this sculpture is sure to catch attention and inspire admiration. Capture the essence of ancient symbolism and bring the strength and vitality of the ram into your space with this exquisite bronze sculpture. It is a testament to the enduring legacy of cultural heritage and the beauty of artisanal art.
Whether displayed in a home, office, or as part of a collection.