Ceiling Pendant Chandelier Bronze Dore Brass Copper Opaline Louis XV Style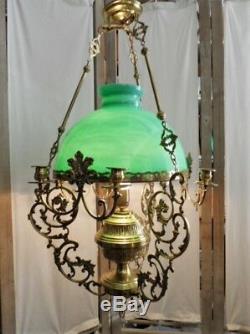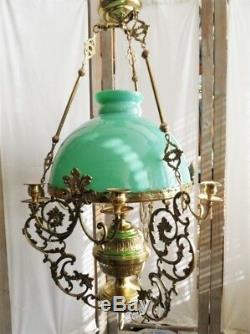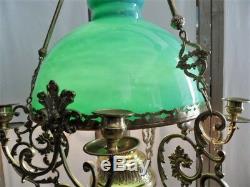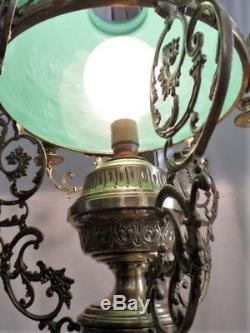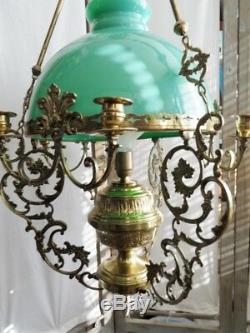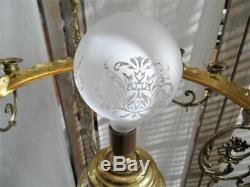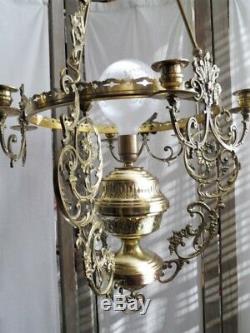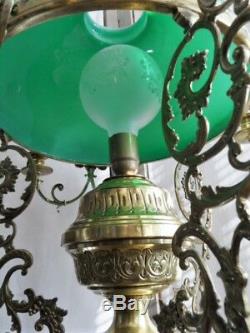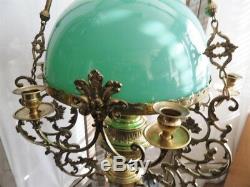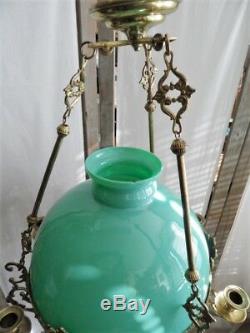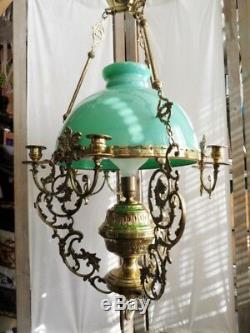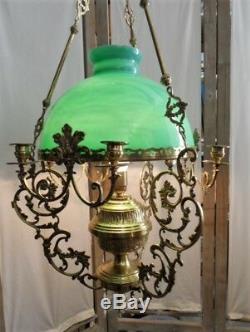 Be careful to read the ad to the bottom of the page before purchase. Ceiling Suspension chandelier old style oil lamp electrified. Gilt bronze gilded copper and brass. Louis xv louis xvi transition model but then new art / art deco I think early XXth century. Fashionable style of the feature at the end of the nineteenth century heyday or rococo rococo subject to influences of early new floral art ...
Model 3 branches two fires decoration candlestick candleholder. State logic wear gilding slightly attenuated. Model overcomes a large glass globe opaline green. The bulb polished glass globe and floral decoration that is in pictures with the chandelier is not sold with gloss .. luster in good cosmetic condition but note 1 of 6 candleholders is not original.
And two small chips on top of opaline globe. Beware of electrical wiring that is functional but quite old carefree and without land.
So is better to provide a modern security rewiring if necessary. Max with strap: 85 max cm width: 48 cm.
Width lampshade opaline: 35 cm. Net weight: about 8000 kg. Collector collection creative art deco decoration passion gift shabby chic new art pop popular ancient craft unusual cultural art design'usine loft workshop souvenir industrial militaria lounge boudoir office smokehouse bachelor bar pub store house hotel restaurant showcase gallery dhôtes cottages .... also ideal for a decorative accessory as a movie theater telefilm television show school cultural program series ........
living museum reference conditionally accepted - purpose different from that presented in the pictures - false description - non-compliance - subject not authentic or if I said it was because I unfortunately do not know all the knowledge: but carefull, 90% of the objects are old to see very old, so logically with conventional defects and normally announced it would be foolish to risk a return to paying more for me .... before taking the decision of reference, thank you to contact me I can give you back the address to which it will arrange me to receive it. If no agreement, no purchase .... Aciko; aelita; aiko aimor; aiwa; akai; americana; amphiton; amstrad; ando; argo; asahi; audiocomm; audiologic; Audiosonic; azamat; aztron; Bang & Olufsen; bearmax; berestie; bicsound; bigston; blaupunkt; bose; brandt; brother; candle; casio; cce; cec; citizen; Clairtone; cobra; columbia; conion; Contec; cosmel; cougar; craig; crown; cts; dak; diamond; diatone; digital sonic; digital sound lab; dux; dynasty; e.
VS ; Eaton Viking; electro brand; electronika; emerson; evrika; empress; euromatic; eusonic; eversonic; fair mate; ferguson; fisher; General; General Electric (Loewe); goldstar; gpx; gregory; grundig; hbatec; helix; International hgm; Hitachi (perdisco); ics; international ; isp; itt; jc penny; JVC (Victor); tech-ken; kenwood; Kings Point; kizuna; International kto; Lasonic; lenoxx sound; lloyds; loewe; Logic; Magnavox; marantz; mark; March ; maximum; medeo; megatech; megatone; midland; mitsubishi; Monaco; Montgomery Ward; mtc; nec; National; Nerl; Japanese; NORDMENDE; oshiwa; palladium; Panasonic (National); pantronic; perdisco; philco; Philips (Magnavox); pioneer; Prosonic; pye; quasar; radiotone; rCA; realistic; rexcel; rising; ritm; romantik; saba; samsung; sandaiya; sankei; sanwa; sanyo; satellite; saturn; sears; seiko; Seltec; sencor; Shar ; Shirasuna shin-electric corp. Symphonic; aktarnair; teac; telecord; telefunken; you're here ; thomson; tisonic; tobishi; tom; toshiba; trident; Tristar; t UNISEF; unitech; universum; urbane; victor; Videoton. The item \The seller is \This article can be shipped worldwide.
subtype: fixed <\/ li>
style: classic <\/ li>
lighting type: Standard <\/ li>
Max power (watts): 60 <\/ li>
Period: Art Deco <\/ li>
dominant color: gold <\/ li>
material: Bronze <\/ li>
Type: Ceiling <\/ li>
features: a screw <\/ li> <\/ Ul>