Bronze Statue Golden Retriever Dog Art Deco Marble Decor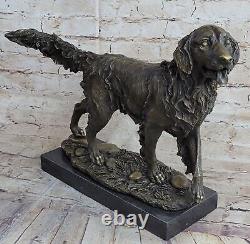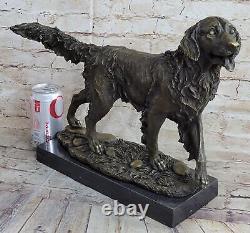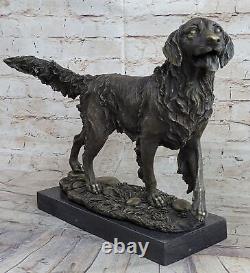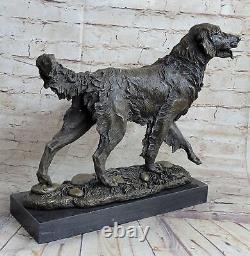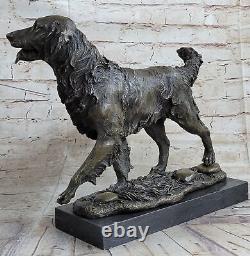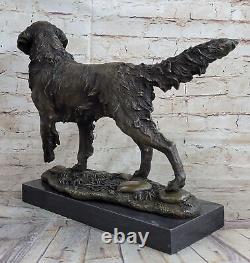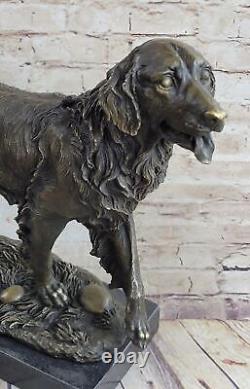 Golden Retriever Dog Bronze Statue Art Deco Marble Decor. This product description is originally written in English. Please find below an automatic translation in French. If you have any questions, please contact us.
This sculpture is in perfect condition. Bronze dimensions with marble base: height 12" x width 16". Marble dimensions: 12" x 5".
Discover the pure joy and limitless energy of the Golden Retriever in this exquisite bronze sculpture. With its water-soaked fur and eyes fixed on its owner, the sculpture perfectly captures the excitement of a game of fetch. The anticipation in the dog's fixed gaze is palpable, eagerly awaiting the ball to be thrown once again. Made using the ancient lost-wax casting method, this bronze sculpture highlights the fine details of the Golden Retriever's fur, capturing its essence with remarkable precision. The brown patina finish adds depth and warmth to the piece, enhancing its realistic appearance. Mounted on an elegant black marble base, this artwork is a tribute to the loyal and playful nature of man's best friend. A delightful addition to any home or garden, this Golden Retriever sculpture is a symbol of companionship, loyalty, and the simple pleasures of life.
Whether you are a dog lover, an art enthusiast, or simply appreciate the beauty of nature, this bronze sculpture will bring joy and charm to your space. Celebrate the spirit of the Golden Retriever and capture a timeless moment of happiness with this magnificent artwork. Golden Retriever Dog Bronze Statue Sculpture Figure on Marble Base Signed Art YRD-195. Paste the link into a browser window.