Bronze Sculpture Sale - Art Deco Wild Boar Pig Figurine Signed by Fait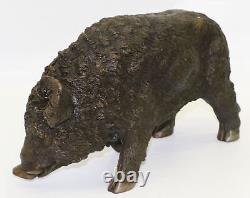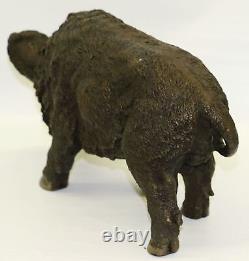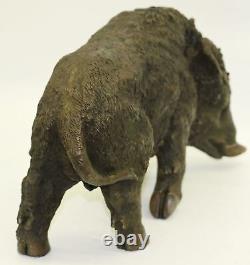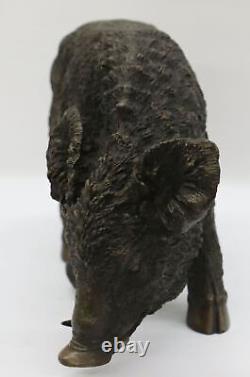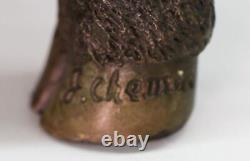 Bronze Sculpture Sale Deco Art Wild Boar Pig Path Signed Figurine. This product sheet is originally written in English.
Please find below an automatic translation in French. If you have any questions, please contact us.
This sculpture is in perfect condition. Bronze dimensions: Height 10" x Width 14". Presenting a captivating bronze sculpture representing the fierce and formidable presence of a wild boar.
With its head lowered and its tusks exposed, the boar exudes an aura of strength and intensity. This sculpture beautifully captures the essence of these powerful creatures, known for their fearless nature and determination. Made with meticulous attention to detail, the sculpture highlights the coarse and rough hair of the boar, adding to its realistic appeal. Handcrafted using the highly regarded "lost wax method," this bronze sculpture benefits from exceptional craftsmanship and enduring quality. The dark brown patina finish enhances the visual impact of the sculpture, accentuating its striking features and creating a sense of depth and texture. Bearing witness to the skill and creativity of the artist, the sculpture is signed by the renowned artist Chemin, adding to its quality and value. Perfectly suited to be displayed on a desk or mantel, this boar sculpture is not only a remarkable work of art but also an excellent conversation piece. Its presence evokes a sense of wonder and respect for the natural world, making it an ideal addition to any collection or as a distinctive decorative piece. Embrace the wild spirit of the boar with this exquisite bronze sculpture that captures the essence of these magnificent creatures. Its presence evokes a sense of wonder and respect for the natural world, making it.