Art Deco Original Cast Iron Greyhound Dog Dogs Bronze Sculpture Marble Statue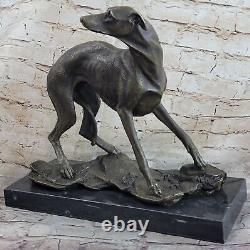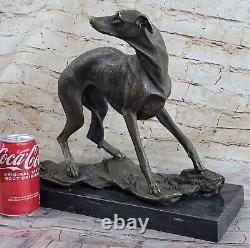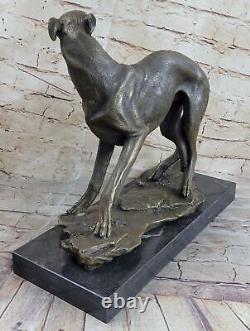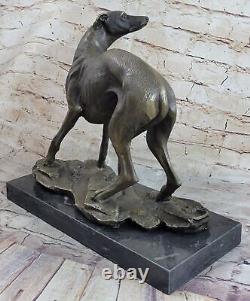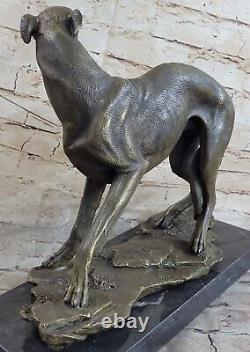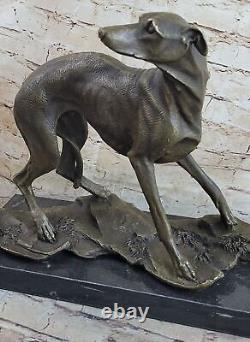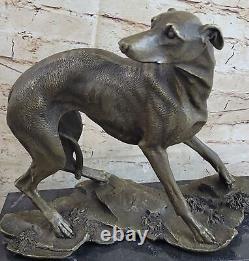 Art Deco Original Bronze Greyhound Dog Dogs Marble Sculpture Statue. This product description is originally written in English. Please find below an automatic translation in French. If you have any questions please contact us. This sculpture is in perfect condition. Dimensions in bronze with marble base: Height 12" X Width 14" Marble dimensions: 14" X 6" Height without base: 11 Weight: 22 LB. Discover the captivating charm of this bronze sculpture depicting an Italian greyhound, the smallest of the greyhound breeds. This sculpture beautifully captures the gentle nature of the dog through its poignant body language. With its tail tucked between its legs and a worried, pleading look in its eyes, the sculpture evokes a sense of vulnerability and empathy. The artist skillfully conveys the true essence and likeness of the Italian greyhound, showcasing its inherent elegance and grace. Every detail of the sculpture, from its delicate features to its refined posture, reflects the artist's dedication to capturing the unique characteristics of the breed. Handcrafted using the ancient revered technique of lost-wax casting, this bronze sculpture illustrates the enduring art and craftsmanship involved in its creation. The brown patina finish adds depth and a touch of warmth, preserving the timeless beauty of the sculpture for years to come. Mounted on a black marble base, the sculpture is a symbol of refinement and sophistication. It proudly displays the European Bronze Finery quality seal, affirming its exceptional craftsmanship. This Italian greyhound bronze sculpture is a true testament to the beauty and character of the breed, making it a valuable addition to any art collection or a thoughtful gift for dog lovers. Embrace the art and emotional depth captured in this sculpture, and let it serve as a reminder of the tender nature and grace of these beloved companions. Greyhound Whippet Slender Dog Bronze Metal Sculpture Statue Figure on Marble Base XN-0727 Bronzhaus.
Paste the link into a browser window. This Italian greyhound bronze sculpture is a true testament.