Signed Barye Very Large Lion Serpent Bronze Art Deco Statue Cast Figurine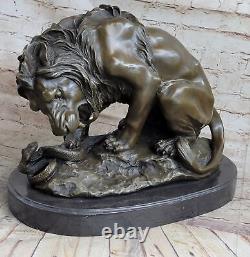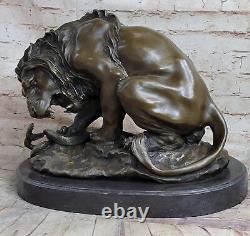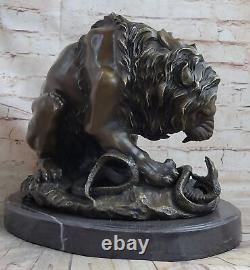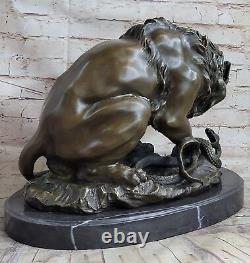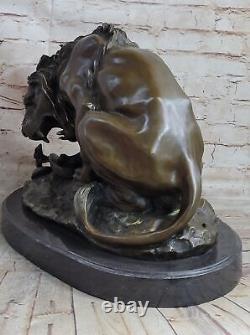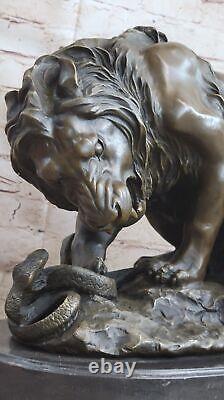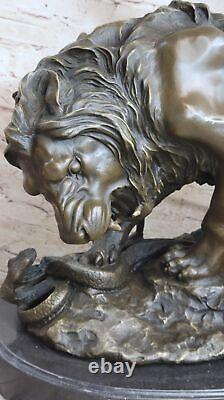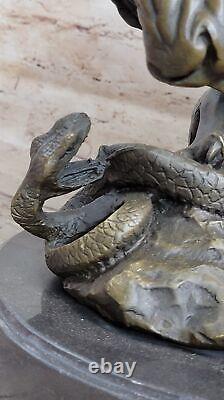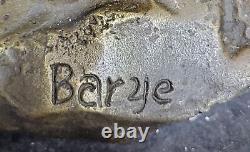 Signed Barye Very Large Lion Snake Bronze Art Deco Cast Figurine. This product description is originally written in English.
Please find below an automatic translation in French. If you have any questions, please contact us. This sculpture is in perfect condition.
Bronze dimensions with marble base: Height 14" X Width 16". Immerse yourself in the captivating encounter between a majestic male lion and a venomous snake with this stunning bronze sculpture. The powerful lion asserts its dominance as it crouches, emitting a fierce roar that intimidates the snake in a tense standoff.
Every intricate detail, from the lion's magnificent mane to the texture of the snake's scales, has been meticulously captured in bronze using the traditional lost-wax casting technique. The craftsmanship of this sculpture is truly remarkable, showcasing the skill and artistry of the sculptor. Finished with a rich brown patina, the sculpture not only enhances its visual appeal but also ensures its enduring quality. Mounted on an elegant black marble base, the sculpture exudes elegance and serves as a striking centerpiece in any space.
It proudly bears the signature of renowned artist Barye, adding to its authenticity and collectible value. This sculpture is a perfect choice for animal enthusiasts, art lovers, and those who appreciate the intricate beauty and power of the natural world.
Enhance your decor with this exquisite bronze masterpiece and be captivated by the dynamic energy and symbolism it brings to your home, office, or art collection. Paste the link into a browser window.
This sculpture is a perfect choice for animal enthusiasts, art lovers, and. Increase your sales abroad with WebInterpret's global listing solution.