Large Art Deco Bronze Statue by Frederic C Focht Victory with Flame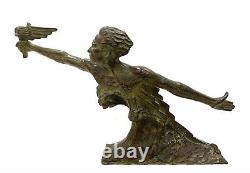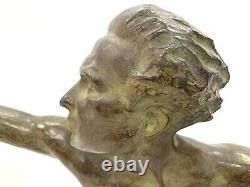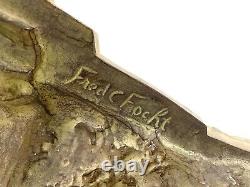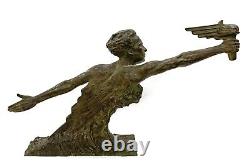 LARGE ART DECO BRONZE STATUE BY FREDERIC C FOCHT. VICTORY WITH FLAME - BUST OF JEAN MERMOZ. Frédéric Focht was born in Paris in 1879 and studied under the famous sculptor Falguiere. His remarkable talent was recognized early in his career, as he exhibited at the Salon des Artistes Français and won the coveted Medal of Honor in 1900 at the age of 21. Focht was responsible for some of the most striking bronzes of the 1920s and 1930s.
Art Deco is an artistic movement that emerged in the 1910s, primarily after World War I (1918), and reached its peak in the 1920s before slowly declining in the 1930s, ending with World War II (1939). It is the first worldwide movement in architecture and design. The Art Deco style gets its name from the International Exhibition of Modern Decorative and Industrial Arts held in Paris in 1925. "Art Deco" is short for "Decorative Arts," and it encompasses architecture, particularly interior architecture with its tapestries, stained glass, paintings, and ornamental sculptures, as well as cabinetmaking, the use of ceramics, and silverware. The design that began with large series of home and office equipment can also be associated with it, as well as fashion and typography of signs and advertisements and signs.
The Art Deco style emerged before World War I against the curves and organic forms of Art Nouveau. It involves a return to classical rigor: symmetry, classical orders (often highly stylized), cut stone (without any picturesque effect). The decoration, which is still very present, no longer has the freedom of the 1900s; it is strictly framed by its creators, and its design is inspired by Cubist geometrization. Order, color, and geometry: the essence of Art Deco vocabulary is established.
The vocabulary takes different forms depending on the regions, architects, and their clients. Its stylistic unity lies in the use of geometry (geometrization), which is primarily decorative - not structural - unlike the international avant-garde movement, also known as modernism or international style, which establishes architectural principles of harmonious volumes, openings, and circulation. These two architectures of "rich" decoration and "purity" given by simplicity will in fact have bridges between them depending on the rigor of application of principles used by architects in the country of application and with variations of individual style of pragmatic production order. Art Deco is the first style to have had worldwide diffusion, created in Belgium and then spreading to France, Portugal, Spain, North Africa, and all English-speaking countries - the United Kingdom, the United States and its active "Art Deco" associations, Canada, Australia, New Zealand, India, the Philippines - as well as major cities in Vietnam for the initial movement, several Chinese cities such as Shanghai and Hong Kong, or Japan, for example, for the Prince Asaka Palace in Tokyo.