Captivating Art Deco Bronze Figurine of a Cheetah, Signed Artistic Fauna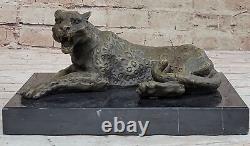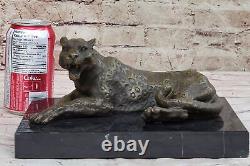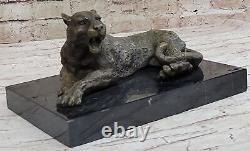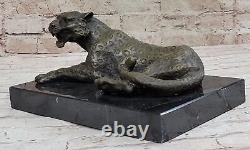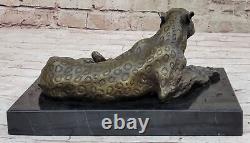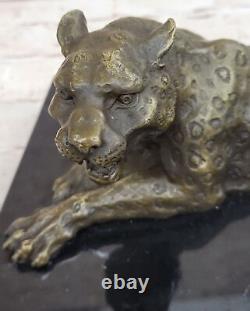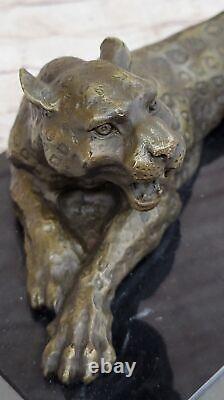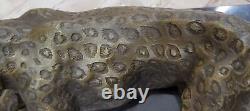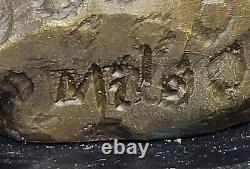 Captivating Bronze Font Cheetah Figurine, Signed Art Deco Artistic Wildlife. This product sheet is originally written in English. Please find below an automatic translation into French. If you have any questions, please contact us.
This sculpture is in perfect condition. Bronze dimensions with marble base: Height 5" X Width 10". Marble dimensions: 10" X 6". Embrace the grace and power of the fastest land animal with this remarkable bronze sculpture of a cheetah. Designed by renowned artist Milo, this sculpture captures the essence of the cheetah in a moment of relaxation. The elegant and muscular form of the cheetah is beautifully rendered, showcasing its natural elegance and agility. Handcrafted using the ancient lost-wax casting method, this sculpture showcases Milo's skill and artistry. Every intricate detail, from the cheetah's supple body to its striking facial features, is meticulously captured, creating a realistic representation of this majestic creature. The bronze sculpture is finished with a radiant patina, enhancing its beauty and adding depth to its features. Resting on a solid marble base, this sculpture exudes a sense of strength and tranquility. The juxtaposition of the elegant bronze against the smooth marble creates a visually appealing contrast, further accentuating the beauty of the artwork. Milo's signature is proudly displayed, attesting to the authenticity and craftsmanship of the piece.
Whether displayed in a living room, office, or wildlife-themed space, this bronze cheetah sculpture will undoubtedly captivate and inspire. It is a striking tribute to the impressive nature of cheetahs and a celebration of the diverse wildlife that inhabits our planet. Let this sculpture bring the wild spirit of the cheetah into your environment, evoking a sense of wonder and appreciation for the wonders of the natural world.
Let this sculpture bring the wild spirit of the cheetah.