100% Solid Bronze Sculpture Angel Goddess Victory Statue Art Deco House Cards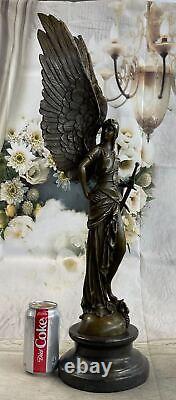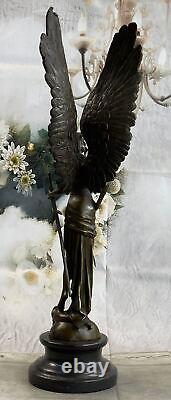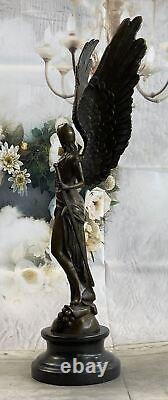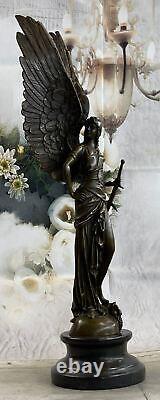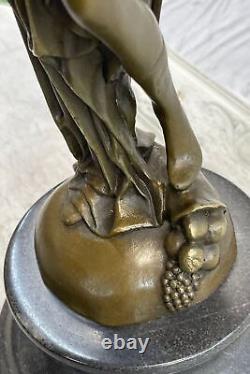 100% Solid Bronze Angel Goddess Victory Art Deco House Cards Sculpture. This product sheet is originally written in English. Please find below an automatic translation in French. If you have any questions, please contact us.
This sculpture is in perfect condition. Bronze dimensions with marble base: Height 25" X Width 8". Admire the impressive presence of a warrior angel woman, balanced in the heavenly realm, her clear purpose: to protect humanity.
With majestic wings that extend above her, their impressive span symbolizing her celestial power, she exudes an air of confidence and strength. One hand casually rests on her hip, while the other firmly grasps a powerful sword, ready for battle. Her ethereal robe gracefully drapes around her, flowing to the ground and revealing a glimpse of her thigh. As she stands atop a bed of abundant fruits, she embodies both grace and power. Handcrafted with meticulous care, this extraordinary sculpture is made of 100% bronze.
The intricate details and textures come to life through the ancient art of lost-wax casting, ensuring the highest quality and attention to detail. A rich brown patina adds depth and warmth to the sculpture, enhancing its captivating presence. Mounted on a solid marble base, the sculpture is a testament to the skill and artistry of renowned artist P. Roche, whose signature adorns this remarkable piece. This exquisite bronze sculpture is a timeless testament to the indomitable spirit of the warrior angel. It is a symbol of courage, protection, and divine grace. Whether displayed in a sacred space, a collector's showcase, or as a remarkable centerpiece in any decor, this sculpture will surely captivate and inspire all who behold it. Embrace the power and beauty of this masterpiece, designed to bring the heavenly realm to life in your kingdom. Angel with Sword Classic Bronze Statue Sculpture Signed Art Indoor Outdoor 25" x 8" DS-084. Paste the link into a browser window. The details and textures co.