Grand Dimitri Chiparus Art Deco Bronze Sculpture Dancer on Marble Base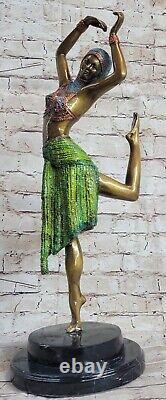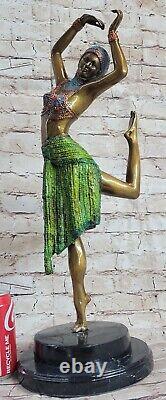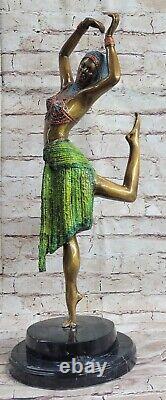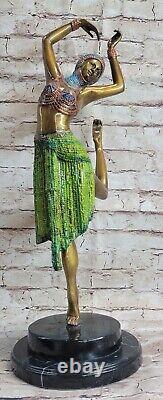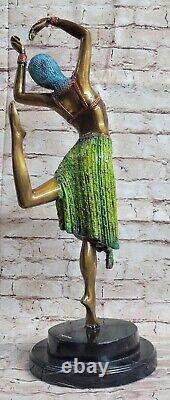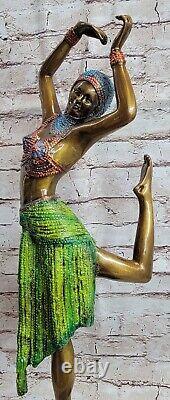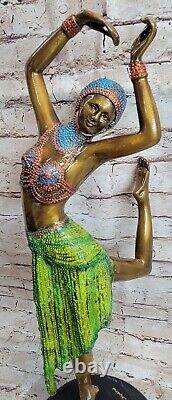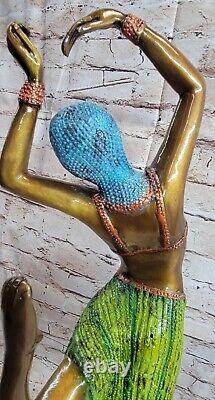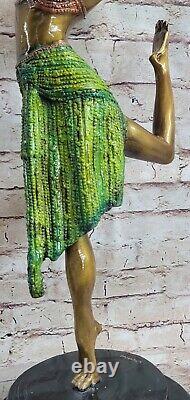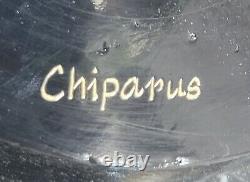 Grand Dimitri Chiparus Art Deco Bronze Dancer Sculpture with Marble Base. This product description is originally written in English. Please find below an automatic translation in French. If you have any questions, please contact us. This sculpture is in perfect condition. Dimensions in bronze with marble base: Height 23" X Width 10". Dimensions of the marble: Diameter 7". This magnificent bronze dancer is a true work of art, handcrafted with exceptional details and featuring Egyptian symbols that reflect the fascination of the time for the excavations of Tutankhamun's tomb. The natural association of the base and the sculpture forms a cohesive design that adds to the overall beauty of the piece. The dancer is adorned with an extravagant headdress made of metal and jewelry, as well as beads falling from her bikini top onto her belly, exposing her beautifully sculpted torso.
Its most striking feature is its detailed skirt, which rises to the level of its thighs and falls longer between them, with an Egyptian hieroglyph in the middle. She wears bracelets on her wrists and arms, completing her stunning look.
This sculpture is an excellent example of the Art Deco period, created by Romanian artist Demeter H. Chiparus, who was renowned for his bronze works based on ballet and theater and always extremely detailed. His name is located at the foot of the sculpture. The sculpture was created using the "lost wax method" and is entirely handcrafted, guaranteeing the highest level of quality and craftsmanship. It is a remarkable piece that captures the beauty and charm of the Art Deco era, making it a valuable addition to any collection or space. She wears bracelets on her wrists and arms, completing a.