Fabulous Bronze Statue Sculpture Girl Woman Lady Dog Figurine Art Deco Opener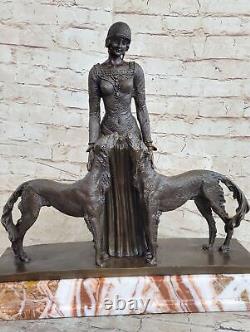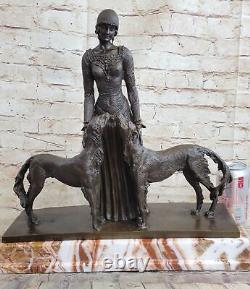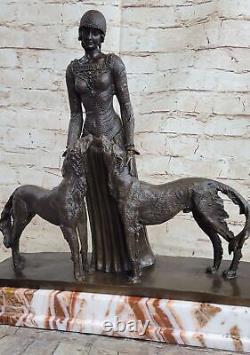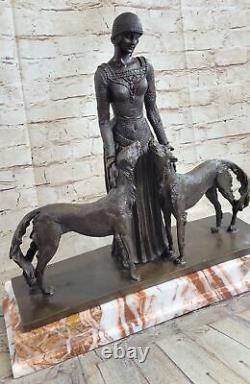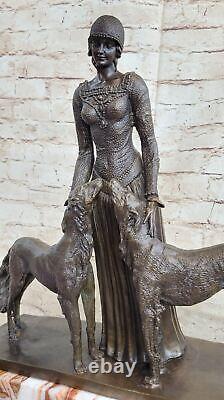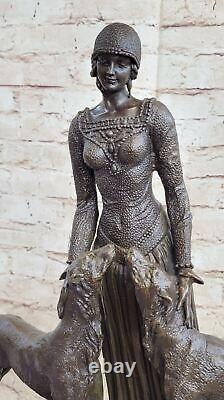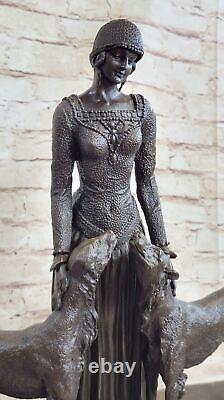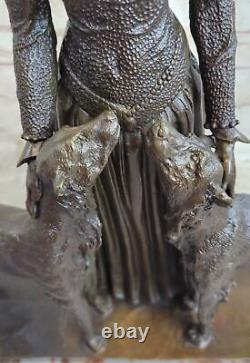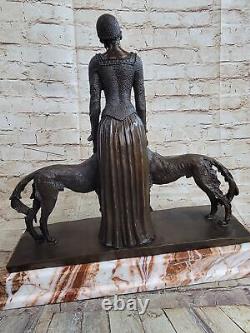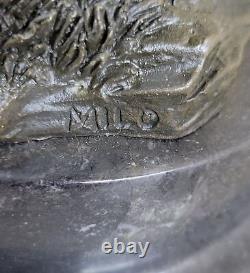 Fabulous Bronze Statue Sculpture Girl Woman Lady Dog Art Deco Figurine Opener. This product listing is originally written in English. Please find below an automatic translation in French. If you have any questions, please contact us. Condition: This sculpture is in perfect condition. Bronze dimensions with marble base: Height 16 X Width 17 1/2" Marble dimensions: 17 1/2" X 6 1/2" Height without base: 14 1/2" Weight: 30 lbs Inventory: 65X200911256. Immerse yourself in a scene of elegance and grace with this stunning bronze sculpture depicting two Afghan hound dogs greeting their beautiful owner at twilight. The sculpture captures the perfect symmetry of the dogs as they approach their owner with adoring eyes. The intricate details of the owner's attire, adorned with beads and sequins, shimmer and reflect the hues of the setting sun, adding an enchanting touch to the sculpture. Made with the utmost care and precision, this handcrafted bronze sculpture showcases the timeless art of the lost-wax casting method. The brown patina finish preserves the intricate details of the sculpture and ensures its longevity. Mounted on a variegated red marble base from Tennessee, this masterpiece exudes a sense of sophistication and elegance. The signature of renowned artist DH Chiparus adds to its value, signifying the quality and artistry of the sculpture. Invite the beauty and serenity of this exquisite bronze sculpture into your space, and let it capture the essence of elegance and the bond between humans and animals. Whether displayed in a living room, office, or art collection, this sculpture testifies to the art and craftsmanship that can be cherished for generations to come. Lady with 2 Dogs Afghan Hounds Chiparus Art Deco Bronze Statue Sculpture 18" x 6" XN-2009. Paste the link into a browser window.
Mounted on a variegated red marble base.